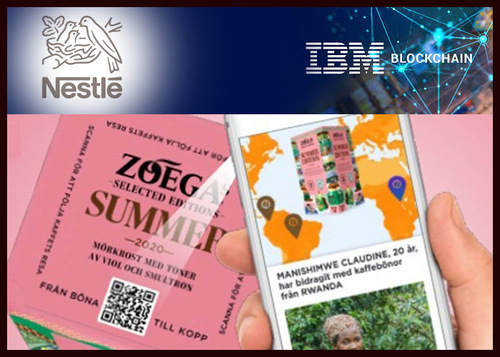 Nestlé To Use IBM Blockchain For Traceability Of Zoégas Coffee Brand
By RTTNews Staff Writer | Published: 4/7/2020 10:35 AM ET
Swiss food major Nestlé is extending the use of IBM Blockchain to apply blockchain technology to track Zoégas coffee brand to provide coffee lovers greater transparency on product checks and origins.
Nestlé successfully applied blockchain technology to track a popular mashed potato brand in Europe, Nestle Maggi's Mousline puree, in mid-April. It also started tracking GUIGOZ Bio 2 and 3 organic infant milk range on the IBM Food Trust platform in November 2019.
Nestlé has now teamed up with a third party – The Rainforest Alliance – to independently provide reliable data on the coffee brand beyond what is usually disclosed by the company.
The Zoégas coffee brand will be tracked using blockchain-based Cloud network IBM Food Trust solution, which is based on Blockchain Hyperledger technology.
Nestlé has launched select editions of Zoégas whole beans and roast & ground coffee in Sweden. It introduced a 100% Rainforest Alliance certified blend of arabica coffee beans from three origins – Brazil, Rwanda and Colombia.
The Rainforest Alliance provides their own certification information, guarantying the traceability of the coffee, which is directly accessible to everyone on the IBM Food Trust blockchain platform.
One can follow the coffee's journey from the growing locations to the Zoégas factory in Helsingborg where the beans are roasted, grounded and packed. The blockchain-recorded data includes information about farmers, time of harvest, transaction certificate for the specific shipments, as well as roasting period.
Consumers could receive reliable and unfalsifiable information on the supply chain and production by scanning the QR code on the packaging using a smartphone.
Nestlé has conducted several tests as a founding member of the IBM Food Trust platform since 2017. The network connects growers, processors, distributors, shippers, retailers, regulators, and consumers through a permissioned, permanent and shared record of food system data. This will enable them to work together to trace and authenticate products or optimize supply chain processes.
Other firms that are part of IBM Food Trust include Topco Associates, Wakefern, BeefChain, Dennick Fruit Source, Scoular, and Smithfield as well as other multinational companies such as Kroger, Tyson Foods, and Unilever.
For comments and feedback contact: editorial@rttnews.com


Markethive Advertisement
Article written by an RTT News Staff Writer, and posted on the RTT News.com website.
Article reposted on Markethive by Jeffrey Sloe