Canadian Blockchain Firm Launches US Dollar-backed Stablecoin
By RTTNews Staff Writer | Published: 11/12/2019 9:33 AM ET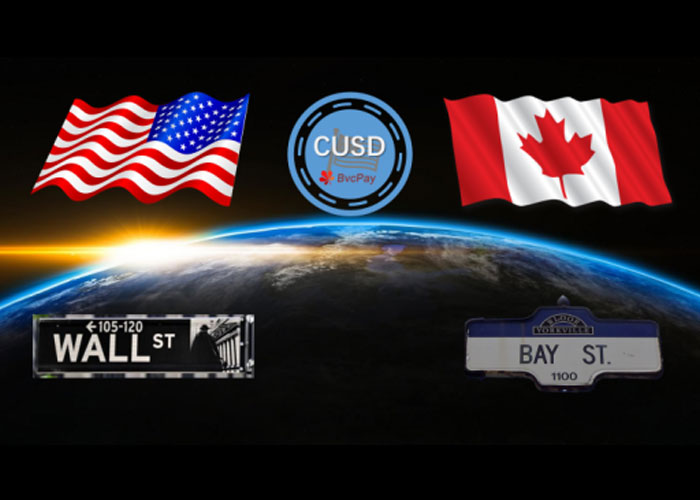 Canadian blockchain firm Blockchain Venture Capital Inc. (BVCI) officially launched CUSD, a U.S. dollar-backed stablecoin, to be used globally. The move comes just four months after it introduced the Canadian dollar-backed stable coin CADT. CUSD is pegged 1:1 to the U.S. dollar.
Both the stablecoins, CADT and CUSD, will enable individuals and businesses primarily in cross border trades between Canada and America. This will eliminate the drawbacks of using cash or expensive third-party intermediaries.
The stablecoins can be used with BVCI's BvcPay app, which also functions as a digital asset wallet, blockchain explorer, and over-the-counter trading and decentralized exchange platform.
Users can also transfer their CUSD stablecoin from their own digital wallet to the BVC-wallet in exchange for an equivalent amount of US dollar.
CUSD facilitates cashless transactions with the pledged value of US dollar deposited into an Escrow Account with a US-based financial institution. BVCI can also reconcile CUSD and US dollar on a real-time basis.
BVCI is a blockchain research and development firm which has developed a public, decentralized blockchain (BVC-Chain) that combines the Ripple and Ethereum blockchains as well as mobile application BvcPay.
eToro's own secure and regulated cryptocurrency exchange called eToroX also has introduced a Canadian dollar-pegged stablecoin, CADX, in April and the TrustToken asset tokenization platform launched its Canadian dollar-backed stablecoin called TrueCAD in May.
For comments and feedback contact: editorial@rttnews.com
Article written by an RTT News Staff Writer, and posted on the RTT News.com website.
Article reposted on Markethive by Jeffrey Sloe